GENERAL INFORMATION
Licensed exam centre and preparation courses
For more than 20 years we have prepared our customers for German exams and other internationally recognized language exams. FOKUS Stuttgart is your partner for a successful exam! Our team consists of many examinants for German, English, Spanish, Italian, French and many other languages.
Prepare for and take the following test at FOKUS Stuttgart:
TestDaF: Text German as a foreign language
telc:  the European Language Certificates
TOEFL: Test of English as a Foreign language
TOEIC: Test of English for International Communication
DTZ: German exam for immigrants
LiD: Living in Germany
Find further information in the DTZ and LiD-exams here on our citizenship course page.
Needless to say that we have a lot of experience in preparing our customers for other internationally acknowledged exams like Cambridge Certificate and IELTS.
TESTDaF
Preparation for TestDaF - get your university entrance qualification
Benefit from our experience and from small gorup courses - take this challenging exam of wide scope thanks to our competent guidance and effective training atmosphere.
How to reach your goals? FOKUS offers a wide range of preparation courses designed for your needs.
Find our latest preparation courses to download and print here.
TestDaF Exam Dates
Take your exam in the same location you already have gotten acquainted with in your preparation course.
When you have mastered level B2 and you are ready for TestDaF download the application form here , print it and send it back to us.
Please understand that our course participants have priority for the exam dates.
Prüfungstermine

Anmeldezeitraum

Preparation Courses

Intensiv/Semi-Intensiv

13. Februar 2020

21.11.2019 – 16.01.2020

Intensiv: 13.01-07.02.2020


Semi-intensiv: 13.01.-06.02.2020

22. April 2020

verschoben

–

–

3. Juni 2020

26.02.2020 – 30.04.2020

Intensiv: 30.04.-29.05.2020


Semi-intensiv: 30.04.-28.05.2020

T105 – 30 Juni 2020

15.05.2020 – 07.06.2020

Vorbereitungskurs: 02.06. – 25.06.2020

T106 – 22 Juni 2020

15.05.2020 – 24.06.2020

Vorbereitungskurs: 29.06.- 20.07.2020

T018 – 13 August 2020

15.05.2020 – 15.07.2020

Vorbereitungskurs: 22.07.-12.08.2020
telc THE EUROPEAN LANGUAGE CERTIFICATES
Preparation courses and test centre: two in one
FOKUS Stuttgart has a long-standing and reliable cooperation with telc. We offer professional preparation courses for all languages combined with the chance to sit the exam on a fixed or individual date (dates for individual exams on demand).
For telc German exams we offer on a regular basis:
intense preparation
in our crash-courses
Exam dates every month for level B1 (DTZ), B2 and C1
Special exam dates by arrangement
Find dates for crash-courses and telc exams here.
You are looking for other languages or levels? Please get in touch!
Application forms for telc exams here .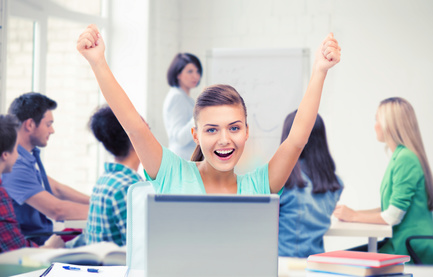 TOEIC and TOEFL
English for business and academic studies
FOKUS Stuttgart prepares you for your professional or academic career with the internationally acknowledged certificates TOEID and TOEFL. In-house courses, online with support from your personal trainer or a combination of the two - we want you to be successful and hence work on your weaknesses and enhance your strenghts.
FOKUS Stuttgart is exam centre for TOEFL Paper Delivered Test and TOEIC Listening and Reading Test. 
Ask your university, your school or your employer which exam you have to pass and talk to us about how we can help you to successfully pass the test.
Find further infromation on TOEIC and TOEFL here. If you are ready to go find our application form here.