OUTLINE
Intensiv und gezielt die deutsche Sprache lernen – mit Fokus!
Unsere Intensivkurse finden täglich mit mindestens 4 oder 5 Unterrichtsstunden statt. Als vom BAMF zertifizierter Träger führen wir Integrationskurse durch mit 5 Unterrichtsstunden täglich und 100 Unterrichtsstunden pro Modul. Die Gruppengröße liegt zwischen 10 und 20 Personen. Die Kurse stehen natürlich auch Privatzahlern offen.
Ab der Stufe B2 bieten wir für Privatzahler Intensivkurse mit 4 Unterrichtsstunden täglich mit einer Gruppengröße ab 5 Personen.
Die Intensivkurse sind geeignet zur Beantragung eines Sprachkurs-Visums. Wir informieren Sie gern über die Möglichkeiten und die nächsten Schritte!
Sie können natürlich die Kurse mit einer offiziellen Prüfung abrunden, z. B.
Deutsch Test für Zuwanderer als Abschluss der Integrationskurse
telc Deutsch B2 für die berufliche Anerkennung
telc Deutsch C1 Hochschule oder TestDaF für die Zulassung an einer deutschen Hochschule
Unser Fachleitungsteam ist gerne für Sie da und freut sich auf Ihre Anfrage!
Integration Courses - level A1.1 to Orientation Courses
The integration course is government-funded and is offered on behalf of the German Ministry of Migration and Refugees (BAMF). The course is for everyone who has just arrived as well as for everyone who has lived in Germany for some time but lacks sufficient knowledge of German.
The course consists of 600 units of language lessons plus 100 units of cultural and political lessons to prepare for the exam 'Deutsch-Test für Zuwanderer' (German exam for immigrants) for level A2 or for the exam 'Leben in Deutschland' (Living in Germany) for level B1.
In order to get government aid you need a qualification certificate issued by BAMF (Federal Office for Migration and Refugees).
With the qualification certificate you will pay 195,-€ per module (100 units) as own contribution. Participants receiving unemployment compensation or social welfare can be unburdened by the fee.
If you privately book the course without aid from the BAMF you will have to pay 465,- € per module (equals 100 units).
We are at your side.
Applying for an integration course might seem more complicated than it actually is.
We are happy to consult you and give you a hand filling in the application form.
Your contact persons at FOKUS Stuttgart are Tanja Lilienthal, Petrina Tilaverdou and Maria Doitsidou. Write to this address: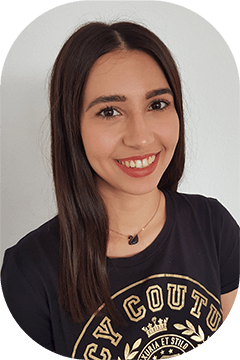 You will find our current integration courses here.
If you are interested in a course then please reach out to our team. We make a counselling interview, a free placement test and we will find a the perfect way for you to learn German.
Intensivkurs B2 "Start – Weg – Ziel"
Durchstarten –
in die richtige Richtung!
Sie benötigen ein Sprachniveau B2 und dies in möglichst kurzer Zeit. B1 haben Sie erreicht, aber der Weg zu B2 erscheint viel anstrengender als erwartet.
Die Anstrengung können wir Ihnen nicht abnehmen, aber wir können Ihnen zeigen, wohin es geht.
Unsere erfahrenen Lehrkräfte bringen Sie auf den Weg – und dann werden Sie Ihr Ziel auch erreichen!
Und was heißt eigentlich "B2"?
Ihr B2-Lauf  geht durch 3 wichtige Phasen.
Phase 1: START
Sie brauchen ein breites Spektrum. Sie sprechen nicht nur "ungefähr" oder "irgendwie" richtig. Sie entwickeln Strategien, um in komplexen Texten die vielen neuen Wörter und Ausdrücke zu verstehen und produktiv zu nutzen. Sie lernen zu variieren und sich angemessen, klar und präzise auszudrücken.
Phase 2: PATHWAY
Sie brauchen ein hohes Maß an Korrektheit. Sie lernen, auf Ihre Fehler zu achten und sich selbst zu korrigieren. Dabei bauen Sie systematisch Ihre Strukturen auf und fühlen sich auch bei komplizierten Formulierungen sicher.
Phase 3: GOAL
Sie brauchen Ausführlichkeit und Kohärenz. Sie schaffen es, zusammenhängend, strukturiert und mit Unterpunkten zu sprechen und zu schreiben. Sie benutzen die Sprache nun mit bemerkenswerter Leichtigkeit. Und natürlich macht die Prüfung Ihnen auch keine Angst mehr.
Unser Kursangebot:
Dauer: 3 x 4 Wochen, täglich Montag – Freitag
9.00 – 12.00 Uhr
(80 Unterrichtsstunden pro Monat)
Ziel: solides Niveau B2
auf Wunsch Prüfung telc Deutsch B2 oder Deutsch B1-B2 Beruf
Gruppengröße: 5 bis 10 Personen
Voraussetzung: abgeschlossenes B1-Niveau
Machen Sie unseren Einstufungstest www.sprach-test.de oder sprechen Sie mit unseren Expertinnen!
Preis: 440,00 €
Sonderangebot: nur 395,00 €
(Einführungspreis 2018)
for each 4 week phase
(Dieses Kursangebot ist ausschließlich für Privatzahler. Eine Förderung durch BAMF oder DeuFöV ist leider nicht möglich.)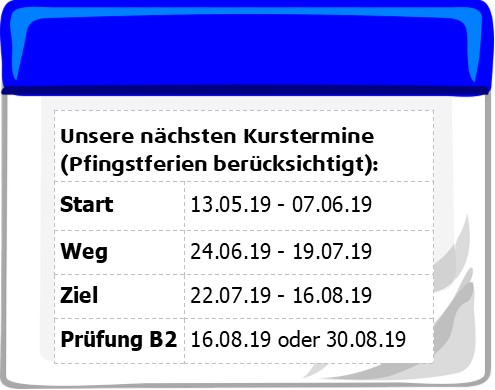 Ihre Ansprechpartner für Intensivkurse bei FOKUS Stuttgart sind Tanja Lilienthal, Petrina Tilaveridou und Maria Doitsidou. Sie erreichen sie per E-Mail unter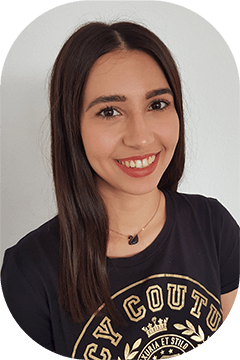 Unseren aktuellen B2-Flyer zum Download finden Sie here.
Bei Interesse wenden Sie sich an unser Team und vereinbaren einen Termin für ein Beratungsgespräch und eine kostenlose Einstufung.